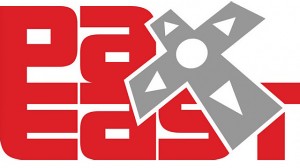 Every now and then, a production pops up that truly confirms for me that this is the field I was meant to be in. This past weekend was one of those occasions: Anchor Line teamed up with Kona's Korner Produdctions, a production company out of Chicago which specializes in live broadcasts, and we were thrown into the jungle of the biggest video game convention on the East Coast: PAX East. Anchor Line has worked with KKP for over a year now, (Last year's PAX East was the first collaboration, in fact). While Adam (and our HD cameras) have traveled around the country with the KKP crew, this was my first experience working an event of this caliber.
I've been a gamer about as far back as I can remember, and when I found out that our production team was going to be providing the live feed for a hugely reputable and successful video game company, I was beyond excited. 2K Games are the parent company for some of the biggest games in the industry today such as NBA 2k13, Borderlands, and the more recent blockbuster, Bioshock Infinite. Not only would we be streaming live gameplay and interviews from the booth, but we would also provide a live stream of several panel discussions to video game website giant, IGN.
I had never been to a convention like this before and coming down the escalator for the first time was a pretty heavy experience. All around me were incredibly intricate booths with samples of some the biggest releases in the near future such as Watch Dogs, Assassin's Creed: Black Flag, The Last of Us and Elder Scrolls Online. Screens were everywhere. Total sensory overload! Getting from booth to booth meant navigating through what can only be described as a sea of people. Throughout the sea, aliens, warriors, assassins, soldiers, and robots were spotten; cosplayers who attend these conventions and dress up in intricate costumes of their favorite characters.
Working for Kona's Korner Productions enlightened me as to how complicated live streaming can be. Watching the stream online, you would have no idea how much time, effort, and man-power it took to not only assemble the equipment, but to coordinate with the talent, schedule (and reschedule) the programming, and keep everything moving smoothly and professionally for the end user– the gamers and fans who weren't able to attend in person.
The control room was impressive. All the broadcast equipment (cameras, monitors, computers. switchers, mics, communication systems, etc), was pro gear, and conducive to a top-notch broadcast. However, I learned it's the team of people using the gear who really "make or break" the production. When one piece of equipment fails, the director is ready to send out a different piece of content to the stream. When a two minute window opens up to interview David Hasselhoff (like at Comic-Con San Diego last year), the team is ready to switch to the camera that's live on the show floor at the drop of a hat. Kona and his team are a pleasure to work with. Although I was the new guy, as well as the youngest member of the team, they treated me as if I had been working with them for years. When it comes down to it, a broadcast is only as good as the team behind the gear. The highest quality equipment in the world can't save a broadcast from a team that has no chemistry.
Working PAX was an absolute blast. Creating content for a gaming company for a website that I've been a huge fan of since high school was surreal and I made some awesome new friends in the process. I am beyond thrilled to be working with these guys on future projects!
Check them out: