We were recently hired by RiverWoods Retirement Community in Exeter, New Hampshire to produce a video to support their mission statement. The video will be shown to prospective residents and their families, and to be viewed on their website and social platforms. They had crafted a well-written script which touched on the organization's history, their vision, their goals, and how this all informs who they are today. They wanted a video that would capture the spirit and culture of RiverWoods, and visuals that would support their script.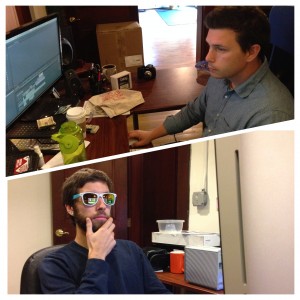 During a very productive discovery meeting with RiverWoods, we chose a handful of scenarios which would help convey the message so that before we went into production, we would have a strong storyboard. We knew it would be a long production day, so we wanted to be efficient and focus our time and effort on scenarios that we knew would likely be used in the piece. Zach and I spent a long day with their marketing team, and thanks to their organization and planning, we were able to capture beautiful footage, and we met some amazing people during the process.
Upon returning from the shoot and backing up all of our footage from two cameras, I immediately knew that despite strong boards, the edit would be a challenge. We had hours of footage, and each scene had to tell its own mini story in 5 or 6 seconds. That's a lot of pressure to select the precise, perfect moments! Then it occurred to me– Zach and I are both shooters, and we're both editors. If we each took our own approach to the edit, we'd likely create two pieces that will be very different.
We isolated ourselves from one another during the process so that we wouldn't be influenced by each other's shot selections, music, pacing, and graphic treatments. The results were exactly what I had hoped for: two distinctly different pieces that we could present to the client, which both followed the script and storyboard, and they could choose which piece better represented RiverWoods and their vision for the project. We were thrilled to learn that they were extremely happy with both of the edits. (And naturally, the final edit features elements of both.)
For us, it was an enjoyable and telling experiment, but we see small examples this every day when we offer each other constructive suggestions on how to improve an edit. Each editor approaches a project differently, and we each have different styles, techniques, and opinions on the recipe for a strong video. In this case, despite following the same script, storyboard, and collection of footage, two different RiverWood stories were told.
So now I turn it to you… which RiverWoods story do you vote for?
RiverWoods Mission Video V1


RiverWoods Mission Video V2