My internship with Anchor Line was a great opportunity to learn about the video production process. I was able to sit in on pre-production budget planning meetings, hear about the proposal writing process, and learn about story boarding. I experienced being on set and learned how to set up and take down lighting and camera equipment. I observed the meticulous process of prepping and shooting video.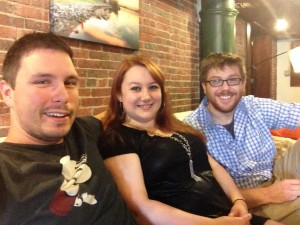 I also appreciated learning about client relations, and the creative process of planning the video projects. Communication is key in business and video gives the client an excellent way to communicate their products and services. I learned about how Anchor Line edits a video to create and communicate a clear visual story. Learning about post production was fascinating. The footage is cut and edited to create a story, using top of the line software programs. It is amazing to watch the editing process, to see something you witnessed be filmed, then become a professionally edited video.
The internship was also an opportunity to participate in a professional workplace and experience being part of the team. Anchor Line has a casual office environment, though they take their work very seriously. One of my projects was marketing research to scope out how the competition markets themselves compared to Anchor Line. Very few companies can compare to Anchor Line's awesome online presence. Anchor Line's new website is easier to navigate and more eye-catching than most. Being an intern, I expected to be doing daily coffee runs, but that wasn't expected. The Anchor Line office is conveniently located in downtown Portsmouth close to several great places to grab coffee or lunch. I very much enjoyed being the intern for Anchor Line, and I am so grateful that they allowed me to do it!