Hey, my name is Megan and I'm Anchor Line's new summer intern! I am a senior Communications, Business Applications major at UNH. I have always been interested in art, and though I do not have much experience in filming and editing, I am excited to learn more about the process, along with other business and communication aspects that happen day to day at Anchor Line!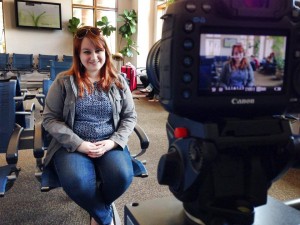 My first week as an intern has been great! Adam, Ken, and Zach are very focused on making quality work while having fun. Anchor Line has a very friendly environment and a very pretty space right in downtown Portsmouth. There's always something going on here. On my first day I got an overview of basically what they do. I listened to how they budget out a job and write a proposal for their clients, giving the client multiple options. The rest of the day was spent watching Ken meticulously edit a video for Northeastern's Architecture program. Since I am so new to editing, it was actually pretty fascinating to see all the things that he could change about the footage. He could cut an "um" or a beat out of the footage to smooth out the speaker, as well as change the color, sound, or brightness of a single shot without effecting the rest of the footage.  These things might sound simple, but it was very cool to actually see it happen.
The second day was shooting at C&J Bus Lines in Portsmouth. It was cool to learn how shots were set up, and about the different kinds of cameras, tripods, and lights. I was able to watch three interviews be filmed with a mother and son, a younger guy, and an airline professional who has been riding C&J since 1993. Adam and Ken, who were both shooting, communicated effectively with the clients and joked around with everyone. They explained when people are comfortable on camera, it makes for better footage  This was demonstrated clearly with the little boy in our first interview.  At first, he seemed intimidated by the lights and cameras, but when Adam started joking around with him, he ended up being chatty and energetic, and was fantastic on camera!
Overall, I am excited to continue with my internship. I have already learned a lot about filming and editing, but I've also been able to see behind the scenes of how the business works. I am excited to learn how they connect and work with clients, as well as the technical aspects of production.  It's exciting to see footage that helped create, be edited into a commercial or segment that will appear on the web.