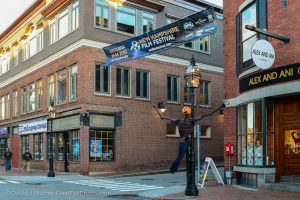 The final screening of this year's New Hampshire Film Festival ended at around 9pm last night at the Music Hall here in Portsmouth. Once again, Anchor Line was on board as a sponsor, filming the panel discussions for the film festival. In conjunction with Fuel Creative and AV Technik, we offered multi-camera coverage of each of the 7 discussions, and they were made available online within just a few hours after each panel ended. The highlight this year, for me, was the "Conversation on Comedy" panel, (embedded below), which featured comedian Tommy Chong, two of his daughters (Rae Dawn and Precious), as well as Dale Launer and Mike O'Malley (Glee, Nickelodeon GUTS).
The Film Festival weekend is always an exciting one which brings a lot of energy to downtown Portsmouth. It draws in great audiences, as well as filmmakers and professionals involved in all aspects of production, which also makes it a phenomenal networking opportunity. Those of us who are local to Portsmouth get the change to schmooze with some accomplished media makers, and ask important questions that help us to fine-tune our own craft. I personally also find it fun to explore buildings and venues that I haven't had a reason to visit before. the board does a really great job of seeking out interesting spots to screen films, run panels and workshops, and host killer after parties.
The panel discussions are one small part of a huge event spanning multiple days and multiple venues. Year after year, I remain impressed with how well coordinated it is and how smoothly it runs. And, despite stretching themselves thin on long days and little sleep, all of the staff and volunteers remain friendly and fun to work with. Our team, (Randy, Zach, and I), had a blast and can't wait for next year's festival!
Check it out: