I'm about to tell you something you probably already know: Video content uploaded to the web increases organic search engine optimization. To anyone who doesn't know what this means, (my mom), it means that for those whose businesses rely on good exposure on the web, using video the right way is a really great way to drive traffic to your website.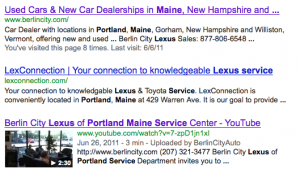 Case in point, if you Google "Lexus service Portland Maine", about half way down the first page of search results, you'll see a segment we produced for Berlin City Lexus of Portland which paints a great picture of their attention to detail, their customer service, and their techs' experience. The video appears only two spots beneath the web link to their service website. Because they've tagged the segment on YouTube with city names around Portland, services they offer, (tire rotation, oil change, state inspection, etc), along with the brand name Lexus, the video appears very high in the search results because it's very relevant to the search query.
So how does this relate to Google+? Admittedly, I'm just in the learning stages with the new social platform, and finding it very useful. The "hangout" feature is a great option for a "conference call" style video chat with up to 12 colleagues. Now, Livestream has offered a service called "HangoutCast.com" which will integrate with your G+ hangout and broadcast the event live on the web.
Here's where the "thinking outside the box" comes in. Livestream gives you the option to capture your video, so why not use it just like Berlin City Lexus is using their videos… as another way to gain exposure?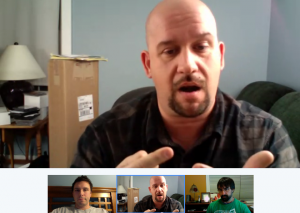 My hangout tonight was with my friend Paul Ramsay, a professional hypnotist, and Tony Palleschi from Apart Creations, a web design firm. Although tonight's conversation was not specific to one topic, had we focused the discussion on Paul's hypnotist services, his tour schedule, his Mind Games entertainment show, etc., Paul could see some great results from capturing the conversation and using it as a way for schools, for example, to find out more about his show… and to get Paul up even higher in Google searches for phrases like "hypnotist for colleges," "project graduation hypnotist," and "best damn hypnotist in the country!" (All depending on how he titles the video and what keywords he attributes to it).
So get creative! Think outside the box! There are a lot of opportunities to create entertaining and educational video content which you can turn around and use in many different ways. Have fun with it! And check out these fine gentlemen:
> Paul Ramsay, Certified Hypnotist
> Tony Palleschi, Apart Creations