We see a lot of variety in what we're asked to produce here at Anchor Line, but there hasn't been a project that I've been a part of that has been as physically challenging as our recent adventure to Cannon Mountain in Lincoln, New Hampshire. The shoot spanned several non-consecutive days, and this particular day was originally scheduled for one week earlier, but when we learned that the temperature was supposed to be -20 degrees at Cannon, we figured it would probably be best to try another day. We got lucky– the reschedule date was 10 degrees warmer… only -10! Needless to say, it was chilly.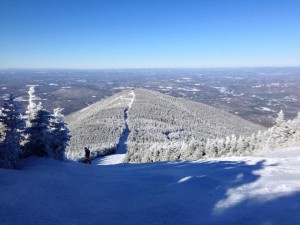 Ken and I made a plan. We thought about the shots we wanted and the most practical ways of capturing them. We needed footage that showed off the excellent conditions, the exciting terrain, and as the lessons. We crafted a basic shot list in our heads, but once we were on top of the mountain, we quickly realized that we were going to need to rely on our ability to adjust on the fly.
Once we established that our camera would actually turn on and record in those temperatures, we headed to our first location. In this scenario, "loading in" involved skiing down a mountain more than 4,000 feet in the air with our equipment strapped to our backs. We traveled lightly, but it certainly added a good deal of excitement navigating the difficult terrain of Cannon, with the risk of dropping or landing on thousands of dollars of camera equipment.
Shooting outside in direct sunlight is always a challenge, but when you combine that with steep terrain covered in snow, things can get dicey pretty quickly. It was hard enough just trying to stay planted. The snow was freshly groomed and quite slippery.
Ultimately, despite the adjustment to shooting in such unique conditions and dealing with frigid temps, icy fingers, and foggy glasses, we were able to capture some phenomenal footage. My takeaway? No one produces awesome content doing stuff the easy way.
Want to see the footage? Check out the Cannon Mountain "#CannonIsMine" TV Campaign here! A collaboration between Anchor Line and Drive Brand Studio.