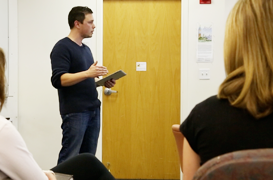 A few weeks ago, Elissa Von Letkemann, a colleague of mine who is a phenomenal graphic designer invited me to come present at a class she is teaching at the New England School of Art & Design at Suffolk University. Much of Elissa's work is in product packaging, and the class she is teaching is on branding and how that is applied specifically to packaging. She asked me to speak about my experience with branding and to show some examples of videos featuring strong brand presence in hopes that it would inspire her students to use video as a tool for presenting their final packaging projects.
While I have a lot to say about branding and how it pertains to our projects at Anchor Line, I would never claim to be an expert. I know, from a video standpoint, how to bring a company's graphic elements, color scheme, fonts, and logo into a segment to brand the video as their own, but I don't know a whole lot about what elements of design would lure me to one grocery item over another. My biggest fear in presenting to these college students was that I wouldn't be able to draw a connection between what I do to what they are working on, but my ultimate goal was to open their minds to different possibilities for how they could present their packaging.
The presentation gave me a chance to talk about clients like Lindt, Planet Fitness, and Hancock Gourmet Lobster, how each has different brand guidelines, and how each various project for these clients allows for different levels of creativity. In the end, however, it's vital that the segments appropriately convey the company's branding as if they produced it in house.
If my presentation inspired even one or two students to pursue video as a method for showing off their projects, I'll consider it a success. I enjoyed chatting with them one on one about what inspires them from a design standpoint, how they carry their brands across vastly different products, and what they aspire to do once they're done with school. And it reminded me how incredibly lucky I am to be taking on projects of such variety!